Lenderink overlay films are designed for commercial and industrial applications where surfaces need protection from abrasion and weathering. Each product can be customized depending on the application requirement.
Bond to Fuser Oils, Base Inks and Toners
Erasable
Anti-slip (high traction)
Protective/removable overlay
Available in rolls or sheets
UV stable
Fuses to almost any substrate
No VOCs
Fast – Safe – Easy
Crystal clear or colored
High gloss and low gloss finishes
Extremely long life
Reverse printable
Very good vapor barrier
Adds stability and strength
FDA approved
3D moldable
Overlay clear or stained/tinted
Thickness – .001″ to .020″
Gloss – high, low, medium
Backing – adhesive, clear adhesive (pre-applied)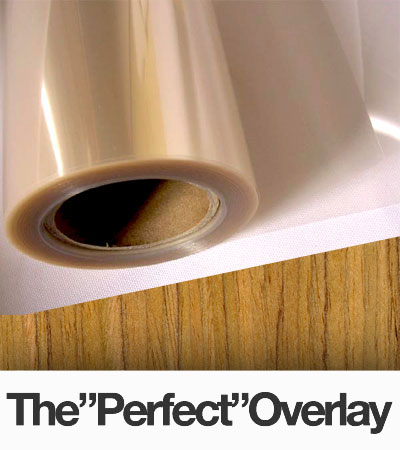 Polyester – Opp, Poly amid, others
Various embosses available
For hot press, nip roll laminating, vacuum laminating
Soft or hard hand
Looking for a turn-key solution?
Check out our Equipment, Films, or Adhesives to find out more.
Specifications:
Thickness .0002″ to .020″
Width ≤ 50″
Minimum glue line pressing temp. 200° F
Clear Coat Overlay pressing temp. 210° F 98°
Heat resistance 180° F 83° C
Wash resistance 140° F 60° C
Many formulas available. Just contact us for your solution.
Recommended bonding surfaces:
Aluminum, Aramide (Kevlar), Cellulose Acetate, Cork, Cotton, Glass, Leather, Metals, Paper / Cardboard, Phenolics-Melamine, PMMA, Polycarbonate, Polyester fiber, Polyurethane, PVC, Wood Veneer / Chipboard, Wool, and Foams.
Laminating Equipment:
Heating Nip Roll
Heating Shoe & Nip Roll
Platen Press
Vacuum
*NEW* No heat needed, clear film overlay for smooth surfaces
Surface Finishes:
High Gloss
Low Gloss
Matte Finish
Overlay Chart:
.002″ Low gloss, scuff resistant, polyester
.003″ Low gloss, scuff resistant, polyester
.006″ Matte, scuff resistant, PVC
.010″ High gloss