Commercial and Industrial Laminating Equipment
Lenderink Technologies – your source for commercial and industrial duty laminating equipment, supplies, and specialty adhesives. We provide custom-engineered, laminating/adhesive solutions specific to your application and have extensive experience in many industrial and commercial applications including: 
AUTOMOTIVE | OFFICE FURNITURE | PARTITIONS | MEDICAL | RECREATIONAL | INSTITUTIONAL | DECO
Lenderink Technologies offer a feature-filled selection of commercial and industrial laminating machinery. We also stock and deliver a huge inventory of laminating films, supplies and specialty adhesives. Our technical staff is experienced in multi-industry, commercial bonding applications and are often able to engineer a custom configured solution for your specific application within 24 hours.
Features available to you include:
Double belt presses
Heated platen top/bottom or both
High/low pressure vacuum press with variable temp/speed/heat and pressure control
Roller/nip roll
Multiple work stations
Durometer capabilities
Top/bottom temperature adjustments
Variable pressure
Heated shoe laminators
Radiant heat laminators
No touch lamination systems for fabric, vinyls, papers, tissues and sheers
Specialty adhesives
In House Test Lab and Model Shop
Our Grand Rapids lab and model shop is home to over 12 different presses, a variety of lamination machinery, specialty films and well over 200 in-stock adhesives and films. These vast laminating equipment capabilities combined with over 40 years experience in the industry, allow us to solve your laminating problem in the most practical/quality-oriented way.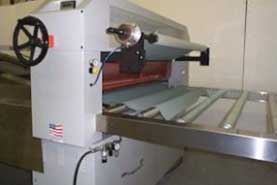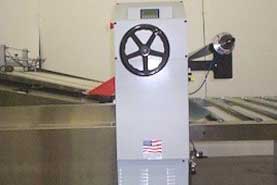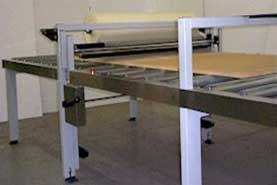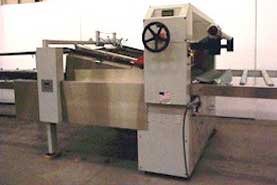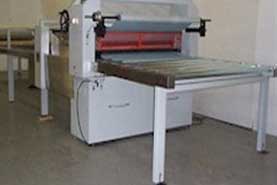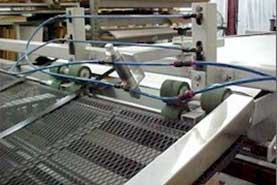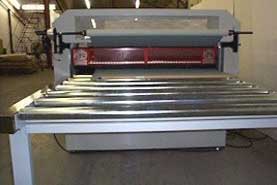 Types of Laminators
Lenderink has simple, flexible prototype lab machines incorporating dual heated nip rolls to 500°F, dual unwind stations, radiant heat panels, sheet fed and roll feed stations with 24″ width component flexibility. Variable heating temperatures, speeds and pressures available. This and many more machines are on the floor in our lab showroom.
We offer laminating equipment for use with Dry Film Adhesives, Clear Coat Overlay Dry Film or Thermo-Set Adhesives and Backers. For big or small jobs, take a look at the workshop ready laminating equipment models we offer. Most machines are low maintenance, variable speed and 1-2 operator feature.
Click to learn more about: 
Types of Adhesives
Lenderink Technologies offers solutions using Thermoset, Thermo-plastic, Web, Film and Powder adhesives. Most are available in Copolyamid, Urethane, Copolyester, EVA, Acrylic and some Exotics. Many different thicknesses or Gram weights available.
Related Product Brochures: