Commercial and Industrial Laminating Equipment
Lenderink Technologies – your source for commercial and industrial duty laminating equipment, supplies, and specialty adhesives. We provide custom-engineered, laminating/adhesive solutions specific to your application and have extensive experience in many industrial and commercial applications including: 
AUTOMOTIVE | OFFICE FURNITURE | PARTITIONS | MEDICAL | RECREATIONAL | INSTITUTIONAL | DECO
Lenderink Technologies offer a feature-filled selection of commercial and industrial laminating machinery. We also stock and deliver a huge inventory of laminating films, supplies and specialty adhesives. Our technical staff is experienced in multi-industry, commercial bonding applications and are often able to engineer a custom configured solution for your specific application within 24 hours.
Features available to you include:
Double belt presses
Heated platen top/bottom or both
High/low pressure vacuum press with variable temp/speed/heat and pressure control
Roller/nip roll
Multiple work stations
Durometer capabilities
Top/bottom temperature adjustments
Variable pressure
Heated shoe laminators
Radiant hear laminators
No touch lamination systems for fabric, vinyls, papers, tissues and sheers
Specialty adhesives
In House Test Lab and Model Shop
Our Grand Rapids lab and model shop is home to over 12 different presses, a variety of lamination machinery, specialty films and well over 200 in-stock adhesives and films. These vast equipment capabilities combined with over 40 years experience in the industry allow us to solve your laminating problem in the most practical/quality-oriented way.
Types of Laminators
Lenderink offers laminating equipment for use with Dry Film Adhesives, Clear Coat Overlay Dry Film or Thermo-Set Backers. For big or small jobs, take a look at the workshop ready laminating equipment models we offer. All machines are low maintenance, variable speed and 1-2 operator feature.
(HINT: Click on the Laminator Types below for more information.)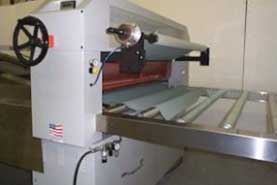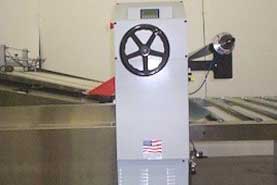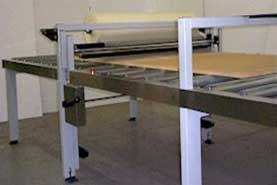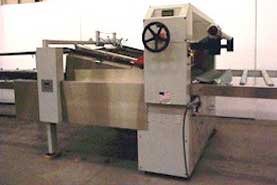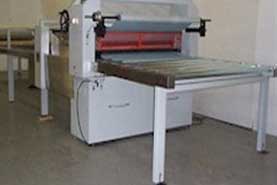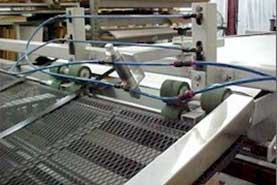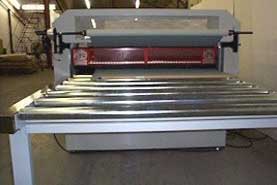 These presses typically include top and bottom belts with heating elements and pressure mechanisms that transfer heat and pressure to the products between the belts. One of the major advantages to this machine is its ability to continuously hold product under heat for and cool to set good strength. Product is held securely throughout complete process. These machines are used for laminating fabrics with extra wide formats or unique technical needs like components for automotive headliners, airbags, etc…

Our "Do-it-all-in-your-own-shop" Press Laminator/Slitter. This full featured, extremely useful press laminator/slitter is easy to use, economical to operate and delivers repeatable results! Laminates sheets and rolls with Thermoset, Thermoplastic, Peel & Stick or Hot Melt Adhesives. It is ideally suited for applying overlays or sealers, and can mate dissimilar surfaces up to 4" thick.

One or two rolls can be heated as various films and /or sheets are passed through melting a dry film adhesive to bond. In most cases the overlay used will already have dry film adhesive on the back side which can also be done on this same machine. These machines can also apply adhesive ahead of time to either surface.

Protective clear or printed overlay films are often applied with this type of machine.

Error type: "Bad Request". Error message: "Bad Request" Domain: "usageLimits". Reason: "keyInvalid".

Did you added your own Google API key? Look at the

help

.

Check in YouTube if the id

LenderinkTechnology

belongs to a username. Check the

FAQ

of the plugin or send error messages to

support

.

Designed to be the best and most economical machine for nip roll laminating of pressure sensitive adhesives. Allows for perfect alignment with variable feed speeds. Special pull rolls allow for perfect feed alignment. For sheet or roll feed. Uses most pressure sensitive adhesives. We recommend our #486N or #486E.

These machines are similar to a heated nip roll machine. They come with a Teflon coated heated shoe/flange over part of the nip roll. As the films unroll they pass over a heated shoe to a melting temperature thus transferring film or sheet to stock. This process is extremely effective for applying overlays.

This machine comes with a 2nd set of nip rolls for tension. The machine can also be adapted to fit an auto rewinder, unwind, and a slitter knife.

The Radiant Heat Panel Machine is primarily designed to laminate sheets stock of H.P.L. (Plastic Sheets) to boards. It will process cut to size sheets as well as sheet stock. We recommend our #200 Adhesive. The Radiant Heat Panel Machine has a variety of other uses as well. The Radiant Heat Panel Machine is Proudly Made in the USA.

 

These heated presses come in almost any size. The advantage of this press is its ability to offer higher pressures and longer dwell time with special cycles including breath. Certain items like thermoset adhesives are typically run in a platen press.

Lenderink Technologies and Associates have been developing solutions for our customers for over 40 years. For your particular application we can provide equipment that will be a "best fit" for you. If you have a special application that needs a solution, contact us for an assessment.
Types of Adhesives
Lenderink Technologies offers solutions using 3 different types of adhesives. Most are available in Copolyamid, Urethane, Copolyester, EVA, Acrylic and some Exotics. Many different thicknesses or Gram weights available.