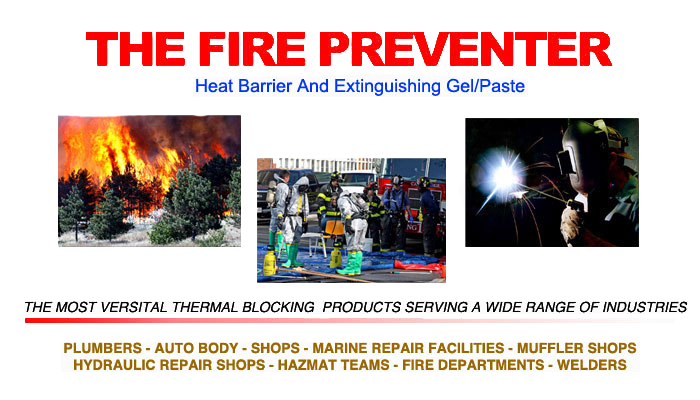 Lenderink Technologies is proud to offer several lines of safe and effective fire retardants from Nochar. Most of these retardants are both non-toxic and biodegradable, and can be used on many surfaces throughout the home or workshop. Take a moment to read about each product and how easy it is to protect your home, your family, and your projects.

It's difficult to put a price on the security of your home and your projects. Our non-toxic, water-based, environmentally friendly fire preventer is safe to use and effective on all unsealed natural fibers. Use to retard fire throughout your home, from wood rafters and shingles to fabrics like cotton, burlap, lined or silk. It's colorless and odorless and even protects hay and cornstalks.
Fire Preventer Products
Fire Preventer
A non-Toxic, water based fire retardant used to treat all unsealed natural fiber substrates, such as Wood, Cotton, Paper, Wool, Rayon, Silk, Linen, or any Cellulosic Fibers. Ideal for home use on wood shingles and flooring. Fire Preventer can be applied by spray, dip, roller coating, vacuum chamber or curtain coating.
Technical Sheet | MSDS
E112
This Fire Blocker Concentrate is an environmentally friendly concentrate which create a spray-on gel that will minimize either direct or radiant heat transfer to adjoining surfaces. E112 can help in extinguishing Class A type fires, and produces a longer lasting coating which reduces the possibility of spontaneous combustion or rekindle.
Technical Sheet | MSDS
S320
This liquid fire retardant sealer that is effective on both natural and synthetic materials such as wood and metal. Because it flexes, S320 will not crack or flake off when used on flexible or rigid foams or fabrics. S320 reduces the release of radiant heat and toxic gases during a fire.
Technical Sheet | MSDS
F506
F506 is a fire retardant additive for foam and plastic manufacturers. It can easily be added to many types of resins. For example, F506 has been used in making flexible foams, rigid foams, fiberglass, and vinyl wallpaper. F506 will reduce flame and toxic gas emissions under heat attack and will reduce the amount of radiant heat released. F506 makes foam products safer and more stable.
Technical Sheet | MSDS
Who uses Fire Preventer?
University of Miami – Treating attics of all dorms and buildings on campus
University of Purdue – Treating convention halls and other materials in student areas
University of Kentucky – Treating out buildings
Privacy Curtains – Fire retarding curtains to be used in the trucking industry
McDonell Douglas – Package treating
Indiana Michigan Power (Coal) – Maintenance and Safety
PSI Power Company (Coal) – Maintenance and Safety
Kings Dominion – Display Materials
Westinghouse – Treating Uniforms
Anvil Case – Storage Cases
City of St. Louis – Treating municipal owned buildings
Wickes Lumber Co. – Retail sales
Indianapolis Zoo – Treating facades
Parker Paint – Fire retardent latex paint
Rice Safety – Markets safety equipment
San Miguel – Treatment of condominiums
Structural Wood Corp. – Treatment of support beams
Minnesota State Fairgrounds – Treating of agricultural buildings
Corman & Associates – Display and exhibit treatment
Fort Lewis, Washington – Various military applications
Gulf Stream Race Track – Treating stalls in horse barns
Lewis & Clark Sawmills – Chamber and surface treating of dimensional lumber