Offering Dribond® Adhesive Films for wood, metal, glass, foam, fabric, cork, plastic, leather, rubber and much more.
Dribond® Dry Overlays offer a beautiful finish on your veneer projects without the hassle of dealing with liquid varnishes. Our versatile line of products can bond almost any surface. Heat activated Dribond® is a dry, clear film adhesive that is excellent for adhering:
Miter Folding
Acoustics
Cardboard
Cork
Fabric
Fibers
Foam
Glass
Leather
Metal
Paper
Plastic
Rubber
Wood
Inks, Fuser Oils, Toppers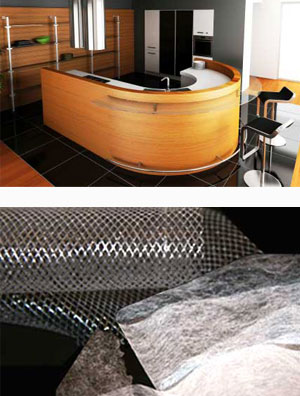 Available in rolls, sheets, die cuts, slit and rewind.
Also available in perforated.
Ease of use, safety factors and the fact you can purchase either rolls or cut-to-size sheets, Dribond® Adhesive Films could revolutionize your laminating/ pressing operations. We have many formulas in stock for small orders.
Note: Some can be used for clear film overlays using a release liner. SAPPI liners will provide 3D type emboss patterns if you wish.
NEW! Dribond Dryfilm adhesive that eliminates taping when miter folding. This Special Hinge component is available in various thicknesses and allows for perfect folds every time with wood, vinyl, paper overlays. In addition, we offer extremely tough pre applied finishes/overlays that also enhance the color print in miter folded products. In some cases, the hinge effect is used as a function of the final component without gluing.