Lenderink and Associates have been servicing specialty laminators for over 50 years. We are not locked to one idea. Lenderink builds or finds a machine and method to do the job. Our extensive labs and showrooms can produce trials and/or samples quickly. Numerous adhesives such as thermoset, thermo plastic, and pressure sensitive are on hand.
One or two rolls can be heated as various films and/or sheets are passed through melting a dry film powder or web adhesive to bond wood, foam, plastics, etc. In many cases the overlay used will already have dry film adhesive on the back side which can also be done on this same machine. These machines can also apply adhesive ahead of time to either surface.
This heavy-duty laminator meets the needs for a wide format, high production facility. Featuring 64″ roll face, silicone and/or chrome covered laminating nip rolls equipped with internal electric heat and controls for ambient temperatures up to 500°F. Extreme high pressures available.
The system's product unwind/rewind assemblies feature safety chucks and automatic transducer tension control. Film unwind stations have cantilevered loading and unloading shafts.
Protective clear or printed overlay films are often applied with this type of machine. Add ons for slitting and static electricity are available.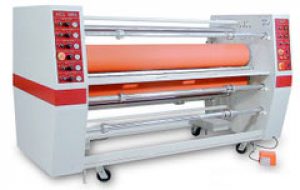 Now able to increase Nip Roll Pressure
by over 4 times!
400°+ chrome nip against a 90 durometer bottom roller. Gets most jobs done. We will build what you need. Apply glass, wood, fabric, plastic, foam to most any backer you desire. Our synchronized extreme tension, torque, heat and speed controls give the ability to make the impossible happen.
Web Laminating Rotary Press Systems are in use around the world laminating flexible films, foams, fabrics, paper, plastics, etc. Whether a protective film to rigid panels or combining various different types of webs using heat and pressure to laminate a wide range of products. Hot or cold.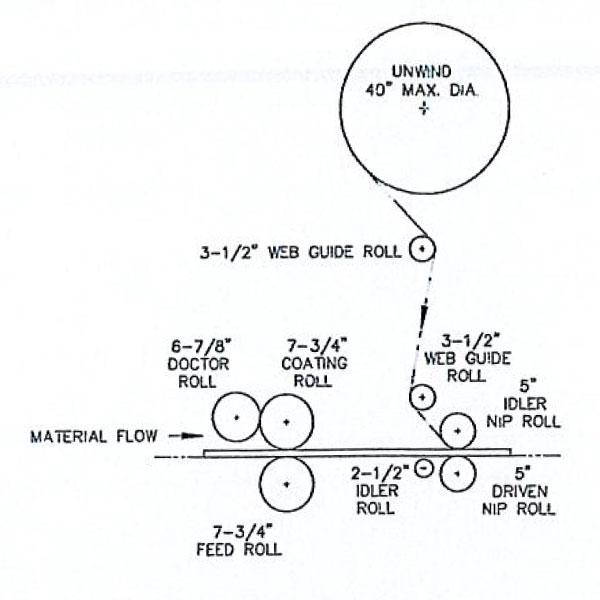 Web Lamination to Rigid Panels
Radiant Barrier Shields
Store Fixtures
EPS Insulation Panels
Protective Films
Vinyl Clad to Metal Panel
Sound Deadening Insulation Panels
Automotive Headliners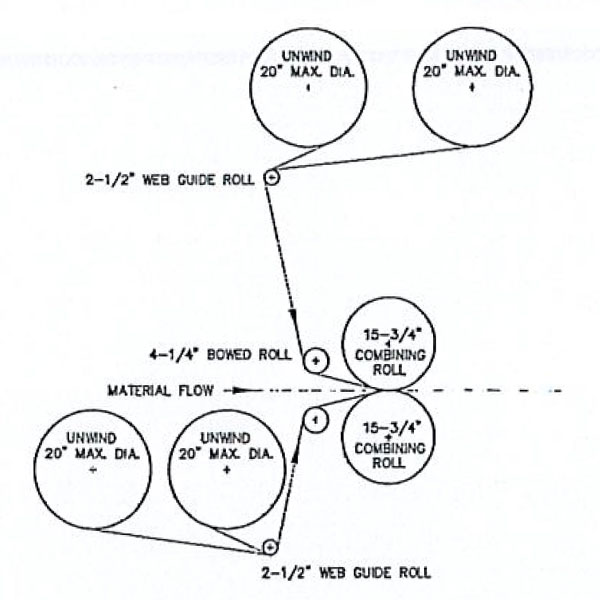 Flexible Webs Laminated Together
Flexible Insulations
Foil to Film
Film to Foam
Pressure Sensitive Tapes
Fabric to Foam
Abrasive Pads
Carpet Padding
Roll Nip Press for laminating sheet to sheet material or pressure sensitive films to sheet.
Simple but efficient, this machine can do pinch laminating for lightweight panels, honeycomb, doors, countertops, etc. Also, with top unwind station, can laminate pressure sensitive protective films to sheets of metal, glass and composites.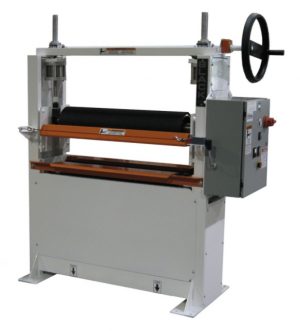 A mid range offering for web lamination.
This machine can laminate sheet to sheet or laminate 1 or 2 webs to sheet top and bottom 26″/660 mm up to 110″/2800 mm in width, and from .020″/.55mm up to 12″ 300 mm in thickness. Available with heated or non-heated combining rolls.
Nip pressure 8,000 lbs. 230/460V-3Ph-60Hz
Hot Melt Adhesive Roll Coater/Laminator
This Hot Melt Roll Coater can be set up with Unwind & Rewind Stands, depending on your specific web process. The Unwind Stand unrolls the product with tension in the Hot Melt Roller and then the Rewind rolls it back up with the edge alignment processing. The system can also be set up with an outfeed nip station for Rotary Pneumatic Press for Lamination purposes.
This system can handle webs of 7 feet/2,134 mm or more and speeds from 30 to 300 FPM and beyond.
Hot Roll Laminating Machine
This machine can hot roll laminate heat activated adhesive-backed decorative foils and papers – top and bottom simultaneously – with no grain raise and no clean up. Apply adhesive directly to the board and laminate less expensive plain papers as well. 
It's designed to withstand high temperatures and rigorous use. The machine uses oversized sprockets, main roller bearings, and rotating unions.
It's capable of running up to 400 five-foot-wide boards per hour (single or double-sided). It maintains high productivity using only a two-person crew.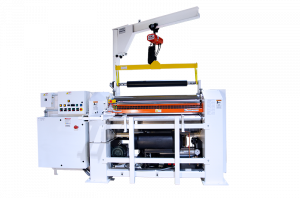 Unwinds and Rewind Stands offer the flexibility to fit your unique web application and roll diameters. Unwinds and Rewinds can be customized to handle any and all kinds of flexible web products, with additional benefits such as automatic web alignment adjustment and tension control.